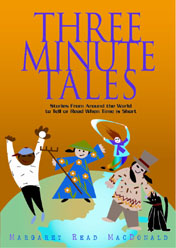 Three Minute Tales
Stories from Around the World
by
Margaret Read MacDonald
Grouped conveniently into 12 sections like
Tales for the Young Listener, Riddle Tales, Humorous Tales, Scary Tales, Stories to Think About,
and so on, the book has about 80 short tales that can be told in approximately 3 minutes, as a filler, or can be explored and expanded by the storyteller as needed.
The book is written with the storyteller in mind - providing suggestions for the beginner to hone their skills. The stories are drawn from various sources and the author cites how she came to learn about them as well.
The book made a wonderful bedtime reading for the resident second grader. Although quite a few stories are familiar, there are some quite unusual ones as well. Drawn from many cultures from around the world, the book is a treasure for parents who like to have a few stories handy to keeping the young ones entertained on long drives or on family strolls...
Back of the book lists
More Short Tales for Telling
.
[image source:
MRM site
]
Labels: ages 6-9, all ages, books, chapterbooks, folktale